Fan Art Finalists: Slideshow + Vote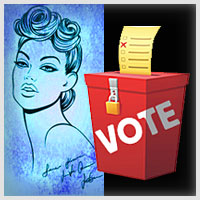 The new L. J. Smith Books Fan Artist Contest Poll will work this way:

each vote must be sent by email to

This email address is being protected from spambots. You need JavaScript enabled to view it.

, where they will be tabulated
or click below button to enter your single vote.

Thank you for voting!
~*~*~*~*~*~*~*~*~*~*~*~*~*~*~*~*~*~*~*~*~*~*~*~*~*~*~*~*~*~*~*~*~*~*~*~*~*~*~*~*~
UPDATED: OCTOBER 1, 2013
THE FINAL WINNERS LIST
L. J. SMITH BOOKS FANT ARTIST CONTEST.
FIRST PLACE:
SECOND PLACE:
THIRD PLACE:
HONORABLE MENTION:
CONGRATULATIONS TO ALL THE WINNERS!
Everyone from this list above will be getting their Gift Certificates and instructions for how to use the Certificates at The Crystal Realm on sometime October 1, 2013.
~*~*~*~*~*~*~*~*~*~*~*~*~*~*~*~*~*~*~*~*~*~*~*~*~*~*~*~*~*~*~*~*~*~*~*~*~*~*~*~*~

L. J. Smith Book Fan Art Finalists — Slideshow