L. J. Smith Books Fan Art Contest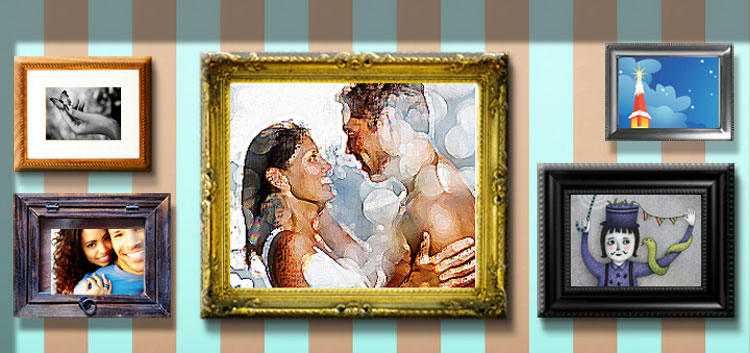 CONTEST UPDATE: SEPTEMBER 9, 2013
---
CONTEST UPDATE: SEPTEMBER 7, 2013

VOTING STOPPED!
Due to the facts that 1) There has been some manipulation of votes in the poll; and 2) some artists' work has not been fairly represented in the thumbnails, a new polling mechanism will be introduced soon. Please check back for it!

~Admin

---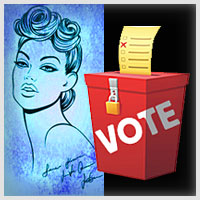 CONTEST UPDATE:
SEPTEMBER 1-2
, 2013


These are the Final 13 Artists that were chosen by the Forum Members.
(In aphabetical order) Now, it is your turn to vote for your favorite artist.



RULES:
ONLY ONE VOTE PER UNIQUE IP ADDRESS.

VOTER'S IP ADDRESS MUST NOT BE PRIVATE NOR CAN YOU SPOOF IP ADDRESSES.

VOTES FROM DIFFERENT IP ADDRESSES WITH SAME GEOLOCATION DATA WILL BE REMOVED.

YOU MAY NOT VOTE MULTIPLE TIMES, EVEN IF YOU ARE ABLE TO.
We want to give all these winners equal amount of chances to win without anyone gaming the system. So please, be honest and don't get caught cheating. We are purging illegal votes from the polls regularly. :-)

CONTEST UPDATE:
A
UGUST 11, 2013
Final fan artworks have been reposted in hopes to get it viewable in Microsoft IE browser. Please give it a view and let me know.


CONTEST UPDATE:
A
UGUST 7, 2013
We are working on a new gallery for Art Contest Entries. It will likely be released on early next week. Thank you for being patient.
---
ONTEST UPDATE: AUGUST 3, 2013

Art Contest Submissions are now organized by Artists.
NOTE!! Microsoft Internet Explorer Users:

It looks like IE is having issues with loading large number of images. Until a fix has been installed, we would like to recommend that you install other modern browsers such as

Firefox or Chrome to

better enjoy your site experience. ~Admin
---
CONTEST UPDATE:
AUGUST 2, 2013


Art Contest Submissions

OFFICIALLY CLOSED!
Below comment was made by Lisa in the Forum:

Well, it seems there was a bit of confusion about when this contest was supposed to end, but I am officially ending it now because my computer is having problems getting on the site, and I don't know if I'll have another chance.
Christina will be re-posting all these entries so that each artist has all her/his work together, which will make voting much easier. Thank you, Christina! Look for the new and improved Fan Art Contest Entries tomorrow on this thread.
~ Lisa
---
CONTEST UPDATE:
JULY 31, 2013

Art Contest Submissions

to Close on Midnight August 1, 2013
Make sure to post your entries before the deadline! Final screen captures of Forum's Art Contest Thread will be posted here shortly there after on this article. Good Luck!

---
CONTEST UPDATE: JULY 8, 2013

NEW RULES II—PLEASE READ!!
First of all, I want to thank all the wonderful people who have entered the Art Contest. You've all done terrific jobs and I really appreciate the work that went into them. However, there's one inescapable fact, which is that there are only about ten entries so far.

Therefore I am officially changing the rules to the Art Contest. As of now, artists may submit any number of pieces they like. There will still be five distinct winners picked by Forum members to go on to the site-wide poll (Forum members would vote for an artist instead of for a particular entry) but we'll be voting on a body of work rather than a single picture in some cases.

Thank all of you artists again, and feel free to submit as many pieces of art as you like.

If you have any questions, feel free to ask me at This email address is being protected from spambots. You need JavaScript enabled to view it..">This email address is being protected from spambots. You need JavaScript enabled to view it..">This email address is being protected from spambots. You need JavaScript enabled to view it..

---
CONTEST UPDATE: JULY 2, 2013

NEW RULES—PLEASE READ!!
You DO NOT have to enter the Forum or seek anyone else's opinion to enter the contest. Those options are merely that: options. All you need to do is attach your art pieces to an email then send it to This email address is being protected from spambots. You need JavaScript enabled to view it. the site Administrator, who will put up your art on the contest page. NOTE: If there are not at least 10 entries by the ending date of the contest, I will be dreadfully disappointed and will either extend the deadline, or simply send all the entrants a bookplate. I can't hold a contest without sufficient choices.
---
CONTEST UPDATE: JUNE 21, 2013
Grand Prize Winner
Prize Upgrades!!!
U.S. Winner

—

Art Kit PLUS a $650 Gift Certificate at The Crystal Realm

Non U.S. Winner

—

$1,000 Gift Certificate at The Crystal Realm
---
I'm very excited to announce this

Fan Art Contest

because I know many of my readers have been asking about such a contest and there is so much amazing talent that's been displayed on the Forum. Whether you've already shared your fan art or you've been waiting for just the right moment, now is your chance to showcase your best work!
This contest is different from all of the previous contests because the winner will be chosen by you—that is to say everyone who visits this site and wishes to vote. There will be four phases to this contest.
Phase 1:
From now until August 1, 2013 contestants
—meaning anyone in the world—will submit one piece of fan art to this thread. Please do not use this thread for conversations. There will be a separate thread for that. See under Questions below*.
Phase 2:
After August 1, 2013,
I'll make a post on this thread announcing that the contest is closed and voting can begin. Voting will now begin. Each person on the Forum can make a post listing their top three choices. You do not have to list these choices in any order. Voting will be open until
September 1, 2013.
Phase 3:
The top five finalists
will be announced on this thread and on the site by the Administrator. All five finalists should send an email to
This email address is being protected from spambots. You need JavaScript enabled to view it.">
This email address is being protected from spambots. You need JavaScript enabled to view it.
acknowledging that they know they are finalists (this will also be explained on the site at the time of the posting). In the email you send, please include your name, full address and phone number. If you do not send your information to me within seven days the next runner up will be chosen as a finalist.
The top five finalists will have their artwork posted
on the main page of this site and a poll will be created in the right column of the page. For that poll, everyone is allowed to vote once every 24 hours.
DO NOT
attempt to vote more than that. Even if the system allows it, it will make a record of it and your vote will be discarded. This poll will close on
September 30, 2013.
Phase 4:
Each of the Five(5) Finalists
will receive a
BOOKPLATE AUTOGRAPHED BY L.J. SMITH
that they can affix in a book of their choice.
The Grand Prize Winner
(whoever receives the most votes in the poll) will either receive an
ART KIT PLUS $650 GIFT CERTIFICATE at The Crystal Realm(U.S. resident)
or a
GIFT CERTIFICATE FOR $1,000 at The Crystal Realm(non-U.S. resident)

.

This contest is open to everyone, everywhere. Please note that winners outside of the United States will be getting a gift certificate because the art kit is far too heavy to ship anywhere else. As always, you will be responsible for any customs or duty taxes which may be levied by your government on the gift certificate.
How do I join Forum to post my picture?
In the right column of this page there is a Login Box. At the bottom of that box there is a
"create an account" link.
After clicking the link, you will need to provide your name, username, password, and email address. Then complete a simple puzzle to prove that you are a human and not a computer and click the "Register" button. In a few minutes, you will receive an email with a link to complete the registration process. Depending on how your email filters are set, this may go to "Junk" or a similar folder. You won't be able to log in for the first time unless you follow the link in this email.
Where exactly is this Contest Thread to post my artwork?

What type of artwork is acceptable?
You can enter anything that is your original work and based on any of the books written by me, L. J. Smith. It can be a drawing, painting, photo-manipulation, computer created, sculpture, etc. You just need to be able to post a picture of it on this thread. Even if you have uploaded the picture elsewhere on this site, you must re-post it here in order to enter the contest.
Can I enter fan art from the TV shows?
Nope. No characters from the TV shows, no collages of the stars--
this contest is for fan art from the books only.
*Can I enter more than one piece?
Each contestant can only enter
one piece of artwork
. However, feel free to create your own posts/polls, to get some opinions about which piece you should enter. Follow these links to learn how to create a post
www.ljanesmith.net/forum/intro
or a poll
www.ljanesmith.net/forum/how-to
Entering Artwork:

Now – August 1, 2013

Voting in the Forum:

August 2, 2013 - September 1, 2013

Site-wide Poll:

September 2, 2013 – September 30, 2013
Good luck in the L. J. Smith Fan Art Contest!
~ Lisa

------------------------------------------------------------------------------------------------