Circle Daybreak Symbol Contest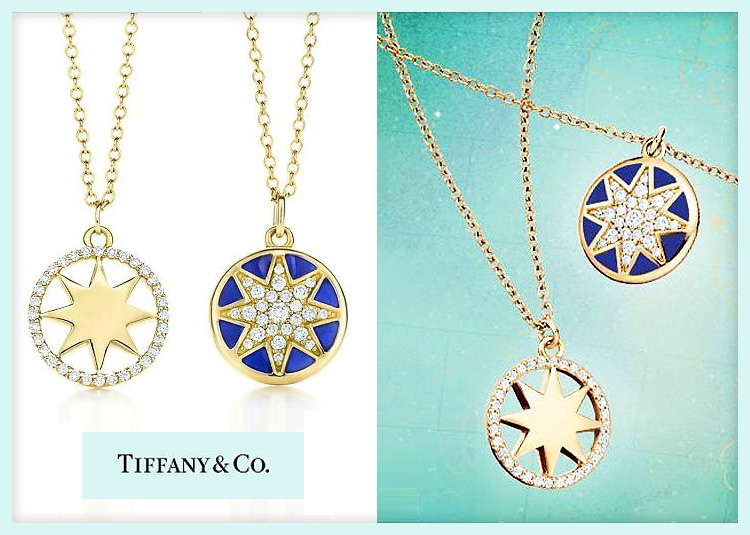 Updated: May 16, 2013
CONGRATULATIONS TO BOTH WINNERS!

HAS CHECKED-IN.
She is a confirmed winner on the Forum!!
Brittney Sword
of
New London, Ohio
HAS ALSO CHECKED-IN.

She is also a confirmed winner!!
Updated: May 16, 2013 12:10AM
This contest is now officially closed and...
Brittney Sword,
New London, Ohio
You now have three days(72 hours) to claim your choice of prize by replying to the email I've sent you.

On the Member's Only Forum's contest thread,

a new winner has also been announced.
Clairebear74
, was chosen as a winner there and she also has 72 hours to claim her prize. Good luck to both of you.
If you miss this deadline then a new winner(s) will be announced.

~ Lisa
---
You voted in the poll and you've made yourselves clear. Clear as mud, actually! The contest finished with the Stella blue enamel and diamonds pendant necklace and the Stella diamond rim pendant necklace in pretty much a dead tie.
What to do?
Well, I really felt I had no choice, so I got one of each, and this contest will be held in two places simultaneously. But before I go into that, let's review what you've decided on for the prizes.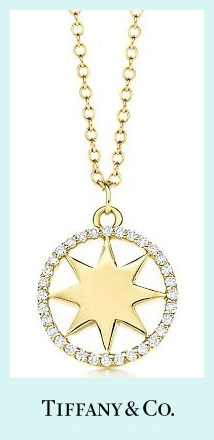 The first Circle Daybreak Symbol
, which started out ahead, but gradually lost ground to the blue enamel kicker is the Stella diamond rim.
Patterned after the gold eight-pronged stars featured on the Basilica San Marco in Venice, the pendant is 18k gold with round brilliant diamonds.

It comes on a 16" chain. The carat total weight of the diamonds is .08. It was designed by the brilliant Tiffany & Co. artist Ms. Paloma Picasso.

It costs $1,950.00.
You can easily imagine this as a Circle Daybreak Symbol, as it is a star-sun inside a circle—a sort of visual pun on Circle Daybreak.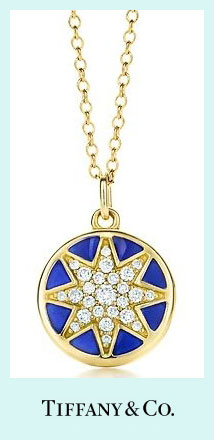 The second Circle Daybreak Symbol

,
which gained popularity steadily as the poll went on, is also
patterned after the gold eight-pronged stars featured on the Basilica San Marco in Venice. Its pendant is 18k gold with blue enamel finish and round brilliant diamonds. (These form the star shape.)

It also comes on a 16" chain, with a diamond carat total weight of .08. Naturally, this also is an original design by Ms. Paloma Picasso.

It also costs $1,950.00.
This also would make a lovely symbol for Circle Daybreak as it appears to be the sun-star against a dawn sky (representing daybreak in the morning) or against a dark sky (to represent the Night World out of which Circle Daybreak emerged).
Now, on to the details of the contest.
WHO CAN ENTER?
First, one winner will be picked out of the Forum. This is another reason for some of you lurkers to come in and introduce yourself, as the Forum numbers are much smaller than the site visitor numbers. All you need to do is join (no one will ever email you—unless it's me with the news that you've won the contest—and I have no idea of how to sell or spread your email address and wouldn't do it if I did know!). All you have to do is sign up and make one little post, like "Me, too!" or "My name is Evangelina Tangerina Wolfeschlegelsteinhausenbergerdorff. Howdy!" That's all it takes and you, too, can become a fortunate Forum member, and I'll take it as kindness done to me. :-)
Another winner will be picked from anyone who sends me an email as instructed below.
And, yes, I will ship worldwide, and yes, Forum members may also enter in this way. So if you're a Forum member you get two chances to win.
After saying that I will ship worldwide, I must add that if there are any customs, duties, taxes, etc. resulting from the mailing of your prize, you will be responsible for paying them. Also: due to the expensive nature of these prizes, there will be no replacement if one or the other goes missing after it's mailed.
HOW LONG WILL THE CONTEST LAST?
It will begin on March 13 and run until May 15.
The day after that the winners will be emailed and have their names posted on the site and in the Forum. If the original winners do not respond within three days, they will forfeit the prize, and a new drawing will be made.
DO NOT USE MORE THAN ONE EMAIL AND CHECK YOUR ACCOUNT ON MAY 16.
HOW TO ENTER
Simply either follow the Administrator's instructions below in order to address your email entry (one per person, yes? Yes.) or address an email yourself to
This email address is being protected from spambots. You need JavaScript enabled to view it.
with a subject of
CIRCLE DAYBREAK SYMBOL CONTEST
.
On the inside of the email, please put your full name and address, and also anything you'd like to say about the prizes or about your favorite L. J. Smith books.
True, it is a random drawing, but there is such a thing as karma in the world. . . .
*Again, these prizes are open to all my readers, worldwide, but you are responsible for any customs taxes or duties should your government impose them.
WHO GETS TO PICK WHICH NECKLACE THEY WANT FIRST?
The first winner to email back gets to pick the necklace she prefers. The second to reply gets the other. (But they're both really beautiful!)
Good luck to everyone in the CIRCLE DAYBREAK SYMBOL CONTEST!
* * * * * * * * * *
THIS CONTEST IS NOW CLOSED.
This contest is now closed and the entries are being gathered to be randomly selected by a third party.
• When they are selected, they will be informed by e-mail, and the Prize Winners will have her/his first name posted in the Blog.
THANK YOU FOR PARTICIPATING. GOOD LUCK TO YOU ALL!