Damon Doll Contest
UPDATED 11/19/2011
Comments from Winners:

"I can't believe this![eeeeeeeeeeeeeeeeeeeee!!!] Thank you soooooo much - I've never won a contest in my life before so, as you can imagine, I'm really excited (obvious from the squeal). I absolutely love dolls and I have a little collection of them (though nowhere near as expensive as a Tonner doll) so winning this contest has just made my whole year! Damon (sigh) is one of my favourite characters from The Vampire Diaries because he's on the good guys' side but is just ruthless enough and not to mention absolutely gorgeous! L.J., you are seriously my favourite author and I read all your books and I'm sure many of your fans here would agree with me when I say you are a brilliant author and I never get tired of reading your books."

~ Miss Imam Habib

"Wow, I really didn't expect to win such an amazing competition. I am such a big fan of the Vampire Diaries and Damon just happens to be my favourite character. I hope that everyone out there enjoys L. Jane Smiths writings as I do and loves the website. Once again thank you for selecting me to win and I encourage all to sign up to this site and join the discussions and competitions!" ~ Rebecca Sierp

"Wow! I can't believe I've won the Damon Doll...this is the first competition I've ever participated in on the L. J. Smith site, too! I'm very excited and more than a little surprised...but thank you so much! This is great!" ~ Carson F.
Congratulations to three winners!
UPDATED 11/11/2011
Following three winners have been notified.
Rebecca Sierp

Carson F.

Iram Habib

Congratulations!
What would the bold of heart like to take home from THE VAMPIRE DIARIES books or TV show? The really bold of heart? I'll give you one guess, and the clue is it's not an object.
Now three lucky people can take home that cruel-but-cute heartbreaker, the Master of Fang, the guy who puts the bite in "Love Bites," and the scare in "Love is Scary," Damon Salvatore himself. Understand, I'm not offering up any humans, and do not operate a vampire slavery ring (although the thought is intriguing). What I am offering is three gorgeous Tonner Damon dolls.

PRIZE DESCRIPTION:

And they truly are gorgeous. I have one and I couldn't be happier—although he does have blue eyes, instead of fathomless star-filled black ones that have led so many maidens astray. He is eighteen inches tall (that's a foot and a half!), and his features are exquisite. He has his own soft, silky black hair, correctly straight and cut relatively long, his bangs just skimming his eyebrows. He also has movable joints, so you can set him up in any position you like: arrogant, impudent, lackadaisical, whatever, and he'll stay, especially if you attach his black platform stand.
What's he wearing? What else? He has on a black T-shirt (which the really bold of heart can take off), a black faux leather jacket in classic Damon style (removable, naturally), black jeans (probably also removable but I'm not going there), little tiny black socks and nice big black boots (both removable, of course). And, the final touch: on one hand he wears the lapis lazuli ring that keeps him safe in sunlight.

WHO CAN ENTER & DURATION OF THIS CONTEST:

Everyone, worldwide, is welcome to enter this contest, and it will begin on September 28th and will run until November 10 (so you can enjoy your Halloween, with dreams of Damon Dolls dancing in your head. After that the winners will be emailed. If they do not respond within one week, they will forfeit the prize, and a new drawing will be made. In other words, either keep up with the contest or DO NOT USE MORE THAN ONE EMAIL AND CHECK IT REGULARLY. IF YOU DOUBLE-ENTER YOU ARE SURE TO FORGET TO CHECK THAT SECOND EMAIL WHEN THE TIME COMES, AND YOU WILL LOSE YOUR PRIZE. IN THE PREVIOUS CONTEST, THE FIRST GRAND PRIZE WINNER NEVER CHECKED IN AND HER PRIZE WENT TO ANOTHER CONTESTANT! DON'T LET THIS HAPPEN TO YOU.
On the inside of the email, please put your first name last initial, and state or country. You can also use your full name if you don't mind seeing it on the site.
Again, these prizes are open to all fans of THE VAMPIRE DIARIES, world-wide, but you are responsible for any customs taxes or duties should your government impose them.
NOTE: IF YOU DO NOT RESPOND TO YOUR CONGRATULATIONS! EMAIL WITHIN ONE WEEK, A NEW WINNER WILL BE DRAWN IN YOUR PLACE.

HOW TO ENTER: – Using this site's eMail form.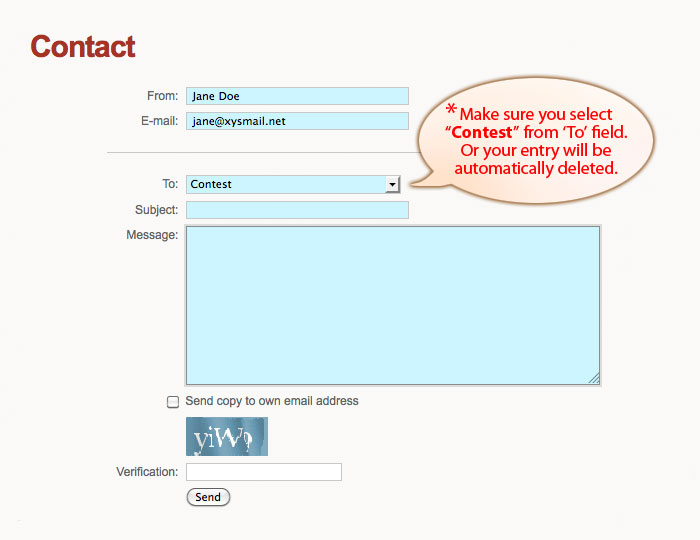 CLICK TO SEE THE SAMPLE FORM.1. Press the icon

below.
2. Select "Contest" under the "To" field (Current Contest Title will automatically fill in for you.)
3. In body of email, type in your First Name and Last Initial or Full Name. Also write in your State or Country.
4. Retype the "Verification" text.
5. Click "Send." You are done!