Cassie's Book of Shadows Contest
UPDATED 9/21/11:
Grand Prize Winner Tera H. of Wichita, Kansas, says: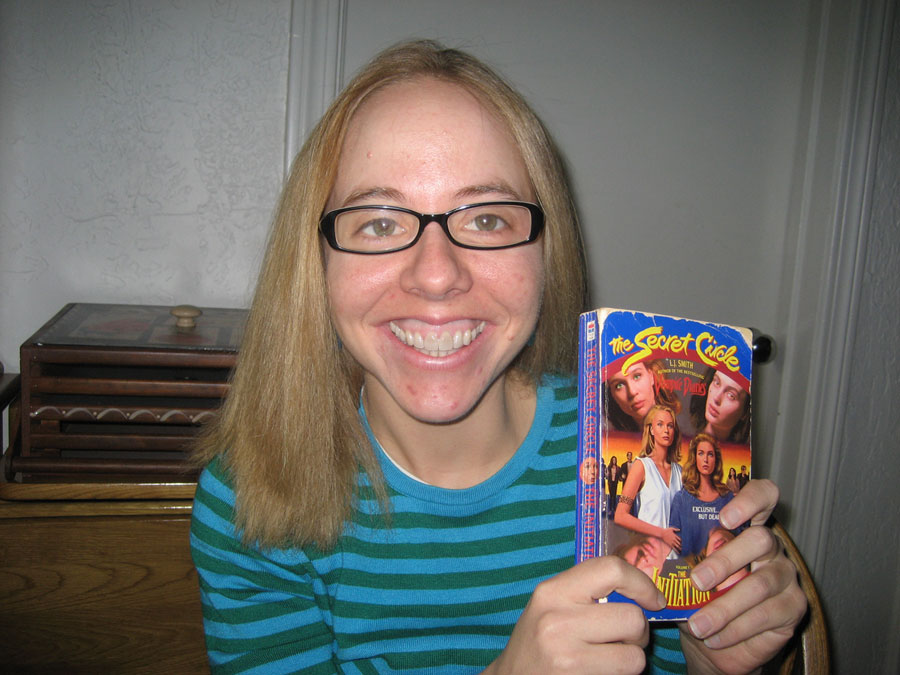 "As you can tell from my silly grin, I am GIDDY to have won the grand prize! I was thrilled to have won the pen and Book of Shadows, and now that I've won the grand prize I might be hyperventilating. Cassie is one of my favorite literary heroines, and I can't believe that I'm going to have all of these Tiffany prizes to remind me of her (pearl earrings! handbag!) Thanks so much to Lisa for the wonderful prizes, and especially for your wonderful books!"


UPDATED 9/20/11:
Grand Prize Winner is Tera H. of Wichita, Kansas, and her essay answer to the question of "Who does Cassie belong With" was this:
I have always believed Cassie should end up with Nick. I was in love with him from the moment he saved Cassie from the Henderson brothers in the hallway, and my affection never wavered. Two things make me think Nick is ideal for Cassie. First, he recognizes her strength and integrity before almost everyone else does (excluding Diana). At the same time, he respects her gentleness and loving nature. Cassie deserves someone who so unwaveringly sees the best in her, and unabashedly affirms it. Second, Cassie and Nick each make the other better. Nick's acknowledgment and support of Cassie's strength and courage allow her to challenge herself and face her fears. Cassie, seeing herself through Nick's eyes, is able to understand herself differently. In return, Cassie deeply changes Nick. At the beginning of the books, his innate bravery and truthfulness have made him distant and hard, and Cassie shows him that you don't need to be unloving or angry to be strong. (Also, I'm a sucker for mahogany-brown eyes!)

I think she has some very valid points that I've explored in my own mind, especially in one scenario in which Nick pushes Adam out of the way of a truck too heavy for the fragile old New Salem bridges, and by doing so, both saves Adam's life and nearly dies himself. It's while he's floating on the brink of death, connected to a dozen machines in the hospital that the Circle does a ceremony with Cassie as leader, to try to drag him back from the rising waters of Death. To do so, Cassie uses the chalcedony rose that is the symbol of the love between her and Adam, and when Nick, still in the dark rising water, sees it, he believes that it symbolizes the fact that Cassie had given Adam up and brought the rose to him. Believing this, he returns with Cassie to life, even those those mahogany brown eyes Tera loves are blind now. When Cassie realizes his mistake she doesn't know what to do or who needs her most, and, characteristically, she and Adam decide she should go with Nick. But that's not the end of my musings, by a long shot.


Ahem! Some comments from the other winners of a Tiffany's platinum embossed Book of Shadows are:

Jennifer M, of Cincinnati, OH who says,
"I was extremely excited when I signed in to my email and saw the Congratulations email! I couldn't believe it at first. Thank you for the years of enjoyment your books have brought me and people across the world! I can't wait for the show! Again, Thank you!"

Fiona H., of Burlingame CA, who says
"Thank you, thank you, thank you!!!!!!!!"

Hannan A., of Ahwatukee, AR, who says
"Omg thank you so much this totally made my night. I can't believe I won."

Emma S. of Calabasas, CA, who says
"Thank you sooooo much!!!! I'm so happy!!! I really wanted to win this thing!!!! I was at a sleep over and I wanted to check my email and I saw this!!!! Love you so so much!! I think I'm dreaming!!!"
Thank you to all who entered this contest! The new contest will be announced next week, and I, personally, would love to have one. In fact, I do have one! I couldn't pass it up. Thanks once more for all who took part in the Cassie's Book of Shadows contest, and to all those who gave intriguing, original, answers to the essay question. To the winners: I will try to mail your prizes this weekend. If you prize does not arrive within eight weeks, please write to me with the subject LOST PRIZE. Thanks! – L. J.

THIS CONTEST IS NOW CLOSED.
This contest is now closed and the entries are being gathered to be randomly selected by a third party. • When they are selected, they will be informed by e-mail, and the Grand Prize winner will have her/his first name posted via Twitter and on this site. THANK YOU FOR PARTICIPATING. GOOD LUCK TO YOU ALL!

This contest once again breaks new ground, as seven (7) lucky people will win—if they have the wits—marvelous toys in this bewitching competition.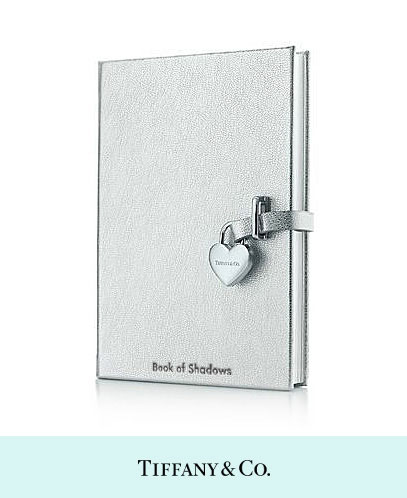 FIRST, THE PRIZES. All seven (7) winners will receive a starlight-colored Book of Shadows. If you've read THE SECRET CIRCLE, then you know how important a grimoire or Book of Shadows is to a young enchantress. This journal is made by Tiffany's . . . and nothing is as lovely as grain leather the color of starlight, with pages that are slivered on the edges so that you can actually see yourself in them! Each one features a heart-shaped lock stamped TIFFANY & CO, and two detachable keys (not shown in the picture), Each one costs $175, and that's not all! All seven of the winners will also receive a genuine Elsa Peretti Sterling Silver pen ($140). You need to be able to write in your Book of Shadows, right? That's a package of $315 from Tiffany's.
THE GRAND PRIZE WINNER, in addition to the Tiffany & Co. Book of Shadows and the Elsa Peretti pen, will win a gorgeous Tiffany's reversible tote bag to put them in. The tote bag is made in Italy and is Tiffany-blue-colored suede (sooo soft!) and platinum metallic grain leather (sooo glitzy!). It has palladium-plated solid brass hardware and a detachable zipper pouch. But that's not all! The Grand Prize Winner will also receive a Tiffany's envelope in platinum metallic grain leather (perfect for a credit card and driver's licence, or a torn-out love spell if you have one!) sooo cute! Also a Tiffany's flat pouch in platinum metallic grain leather, (perfect for your lipstick, or your herbs) and a large zippered cosmetics case in platinum metallic grain leather (which is big enough to stock all your charming make-up or your eye of newt, and toe of frog, wool of bat, and tongue of dog, adder's fork, and blind-worm's sting, lizard's leg, and howlet's wing—except that Cassie won't let you hurt any of the animals ; not even the black adder.) Altogether, that's more than a thousand dollars of entrancing Tiffany's bling.

GRAND PRIZE UPDATED 8/1/2011 (pictures to come later)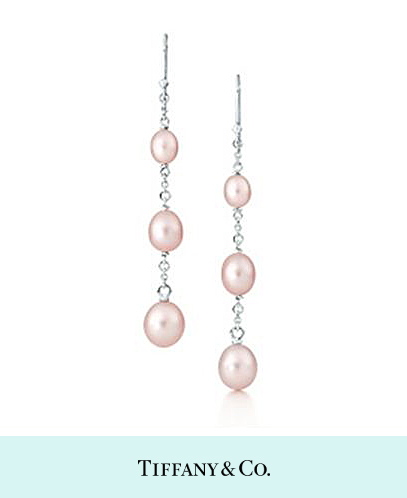 Also, there is a big change in the Grand Prize. Since everyone who lives by the sea like Cassie should have a suitable treasure to guard, the Grand Prize now includes classic Pearls by the Yard by that peerless Tiffany's designeer, Elsa Peretti. This includes the gorgeous Pearls by the Yard sprinkle necklace and the stunning Pearls by the Yard drop earrings, in palest pink.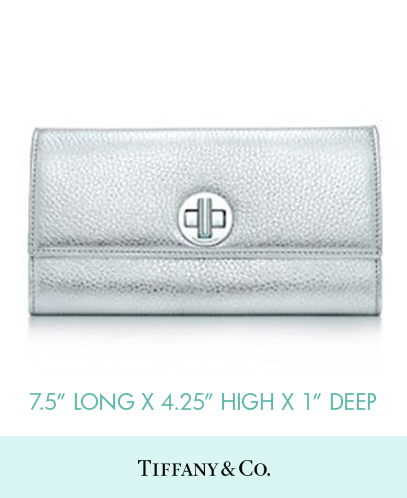 And there's more. Witches, unlike royalty, do carry money, and they're proud to carry it in a Tiffany's City Clutch wallet, in--what else?--platinum grain leather, with a turn lock closure, accents in Tiffany blue. This invaluable item with its many inside compartments, is made in Italy and is the height of chic for the elegant twenty-first century charmer.
Together, this adds another $2,000 plus to the Grand Prize, making it the biggest in history: over $3,500.
---
WHO CAN ENTER
The Grand Prize is open to residents of all countries, but you will be responsible for any customs or duty taxes which may be levied by your government (this does not apply to entrants in the USA, obviously). The other six Books of Shadows and Elsa Peretti pens are only open to individuals in the USA, I'm afraid. I'm getting to despise customs forms and I want to mail these prizes out on time. Oh, yes, and you can enter as many times as you like, provided the entries are not exactly identical for all questions.
NOTE: IF YOU DO NOT RESPOND TO YOUR CONGRATULATIONS! EMAIL WITHIN ONE WEEK, A NEW WINNER WILL BE DRAWN IN YOUR PLACE.
---
NOW HERE'S THE CATCH!
I said you'll need wit to win this contest. Winners will still be randomly drawn, but not unless they can answer the questions below, they'll be discarded, until seven randomly drawn winners who answer correctly are found. You don't need to buy the books—you can read them in a library; and you're free to scry, peep, douse, use telepathy or any other Powers you have in order to "con out the meaning." The last question, though, requires some knowledge of the characters IN THE BOOKS.
---
REMEMBER, ALL QUESTIONS APPLY TO THE BOOKS ONLY!
THE QUESTIONS THAT PUT THE "WIT" IN "WITCH":


QUESTIONS UPDATED 8/1/2011
WHAT ARE THE NAMES OF ALL THE COVEN MEMBERS AT THE END OF THE SECRET CIRCLE, OMNIBUS BOOK ONE? FIRST NAMES ONLY FOR THOSE WHO DON'T HAVE LAST NAMES YET, PLEASE.
WHAT ARE THE MASTER TOOLS? PLEASE LIST THE THREE OBJECTS DELIBERATELY HIDDEN BY THE ANCIENT COVEN THAT ARE DISCOVERED IN NEW SALEM BY A MODERN SECRET CIRCLE MEMBER.
WHAT IS THE FOURTH ITEM OF POWER USED BY THE MODERN CIRCLE? WHERE WAS IT FOUND, AND BY WHOM?
LIST ALL THREE NAMES OF THE GREAT ENEMY WHO SEEKS TO MAKE THE SECRET CIRCLE'S MEMBERS HIS OWN COVEN. (HE HAS THREE DISTINCT NAMES, EACH MADE UP OF TWO WORDS.)

WHO DOES CASSIE REALLY BELONG WITH? GIVE HIS (OR HER) FULL NAME AND YOUR REASONS AS TO WHY.
NEW RULES!! – DO NOT SEND IN FOLLOWING ANSWERS. IF YOU DO, IT WILL BE DELETED IMMEDIATELY!
#1 ANY COMPARISON OF CASSIE AND NICK TO DAMON AND ELENA IS AN AUTOMATIC FAIL.
#2 ANY COMPARISON TO THE VAMPIRE DIARIES IS A FAIL. THIS IS AN ENTIRELY DIFFERENT SERIES.
#3 WHILE YOU CAN ENTER AGAIN TO CHANGE A MISTAKE, IDENTICAL ENTRIES WILL ALL BE DELETED.

Duplicate answers of the last question will be discarded. I want your personal opinion, not something copied from a newsgroup. : P Answers will be get points for ingenuity, originality, and pertinence, not just for grammar or spelling (although you can try—and I don't want anything that uses 2 instead of to or too, or u instead of you. I want something readable.)
"I've left some clues on my latest Blog titled: Cassie's Book of Shadows Contest Updated!"
---
HOW TO ENTER: OPTION #1 – Using this site's eMail form.
1. Press the

icon below (at the bottom of this page) then fill in the necessary form fields.
2. Select "Contest" under the "To" field (Current Contest Title will automatically fill in for you.)
3. Write your FIRST NAME & LAST INITIAL (OR YOUR FULL NAME) within the BODY OF THE eMAIL. then ANSWER THE ABOVE FIVE QUESTIONS FROM THE SECRET CIRCLE BOOKS. ONLY ENTRIES WITH THIS INFORMATION WILL BE VALID. Also, you may write any additional message to me, L. J. Smith. Then click "Send."
---
HOW TO ENTER: OPTION #2 – Using your own eMail program.

1. Send eMail to: This email address is being protected from spambots. You need JavaScript enabled to view it.
2. Subject Field, type: CASSIE'S BOOK OF SHADOWS CONTEST (NOT JUST "CONTEST" OR ANY OTHER VARIATION)
3. Write your FIRST NAME & LAST INITIAL (OR YOUR FULL NAME) within the BODY OF THE eMAIL. then ANSWER THE ABOVE FIVE QUESTIONS FROM THE SECRET CIRCLE BOOKS. ONLY ENTRIES WITH THIS INFORMATION WILL BE VALID Also, you may write any additional message to me, L. J. Smith. Then send the eMAIL.
NOTE: Attention! Please, please follow the rule about putting CASSIE'S BOOK OF SHADOWS CONTEST in the subject field exactly. If you write Contest or Contest for Cassie's Book of Shadows or anything other than CASSIE'S BOOK OF SHADOWS CONTEST, I won't be able to find your email when it comes time to alphabetically sort my emails and give them to the attorney to have the winners drawn. If you are copying news of the contest for some other site, please include this rule in the copy.
---
CONTEST DURATION:
CASSIE'S BOOK OF SHADOWS CONTEST will run from AUGUST 1 to SEPTEMBER 14. After the random winners with correct and original answers have been drawn they will be notified via email before Midnight of SEPTEMBER 15th.

NOTE: If you do not respond within one week, a new winner will be drawn.
Don't bother to enter if you don't have a non-P.O. box address that you can give, or if you never check your email, because if I can't get an address from you I can't send you your prize. Incidentally, I have no interest at all in sending you anything other than your prize, as everyone who has ever won a prize from my contest will affirm.
THE REST:
Also one winner per street address and one entry per email address—and I mean this. I can see on my Outlook program how many times you have entered and extra entries will be deleted. And don't go to the trouble of making a bunch of extra email accounts, either, because it's likely that you'll forget them or the password by September 15, 2011 and then you'll lose your prize.
Good luck in answering the five questions in CASSIE'S BOOK OF SHADOWS CONTEST!