Secret Circle Contest
NOTICE: 8/12/11:
New Grand Prize Winner is Marisa Vanzant. Congratulations!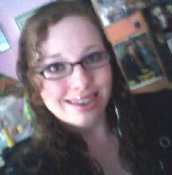 "Wow. I thought I was lucky when I found out I'd won the autographed book, and now I'm the Grand Prize Winner. This is so unreal, and so amazing that I would be chosen out of thousands of entries were submitted. Two of my favorite things ever are stories and accessories. Now I've won both of them from my favorite author! This prize is absolutely perfect! I've hardly ever won anything in my life (I'm 16), let alone anything good, or nearly as good as this. I would like to thank L. J. Smith for not only this wonderful prize, but also the wonderful stories she has created. I love every one."


NOTICE: 7/31/11:
Following people have been contacted as winners to this contest.

Grand Prize Winner is Patricia Rodriquez. Congratulations!

AUTOGRAPHED BOOK WINNERS: Katie Meador, Marisa Vanzant, Frances Maranger, Samantha D, Jalisa B., and Jeannette.
SMALL TYPE: Winners now have one week to claim their prizes or they forfeit the prizes.
THIS CONTEST IS NOW CLOSED.
This contest is now closed and the entries are being gathered to be randomly selected by a third party. • When they are selected, they will be informed by e-mail, and the Grand Prize winner will have her/his first name posted in the Blog as well as here on the contest page. THANK YOU FOR PARTICIPATING. GOOD LUCK TO YOU ALL!
NOTICE: 7/7/11:
Visual "HOW TO ENTER" created for those who simply can not follow directions. ;-)

The Grand Prize for the Secret Circle Contest is by far the most expensive than any that has gone before.
The Grand Prize Winner will be shipped $2325 worth of gorgeous Tiffany & Co. blue chalcedony jewellery—a blue chalcedony teardrop pendant on an 18 inch sterling silver chain, a pair of dramatic blue chalcedony teardrop earrings, and a matching blue chalcedony ring.
These are all designed by Tiffany's artiste, Paloma Picasso, but the inspiration for the contest comes straight from The Secret Circle series. In the first Secret Circle book, Cassie Blake, who thinks she's just on vacation in Massachusetts, and has no idea that she's soon going to be living in New Salem, helps to conceal a mysterious red-haired boy who is being chased by four college guys who have a gun. Afterward he gives her the magical blue chalcedony rose. Here's an excerpt of the scene with the chalcedony rose, slightly tweaked to be understandable:
"Those guys don't like people who are—different," the red-haired boy said, his voice quiet. "And I'm different from them. I'm very, very different."
Yes, Cassie thought. Whatever he was, he wasn't like anyone she had ever met.

"I'm sorry. That's not much of an explanation, I know," he said. "Especially after what you went through. You saved me, and I won't forget about it." He glanced down at himself, at his ragged cut-off shorts and T-shirt that had seen better days, and laughed shortly. "Of course, it doesn't look like there's much I can do for you, does it? Not here. Although . . ." He paused. "Wait a minute."
He reached in his pocket, fingers groping for something. All in an instant Cassie's dizziness overwhelmed her, blood rushing to her face. Was he looking for money? Did he think he could pay her for helping him? She was humiliated, and she couldn't help the tears flooding her eyes.

But what he pulled out of his pocket was a stone, a rock like something you might pick up from the ocean floor. At least that was what it looked like at first. One side was rough and gray, embedded with tiny black spirals like little shells. But then he turned it over and the other side was gray swirled with pale blue, crystallized, sparkling in the sunlight as if it were overlaid with rock candy. It was beautiful.

He pressed it into Cassie's palm, closing her fingers around it. As it touched her she felt a jolt like electricity that ran through her hand and up her arm. The stone felt alive in some way she couldn't explain. Through the pounding in her ears she heard him speaking, quickly and in a low voice.

"This is chalcedony. It's a—good luck piece. If you're ever in trouble or danger or anything like that, if there's ever a time when you feel all alone and no one else can help you, hold onto it tight—tight"—his fingers squeezed hers—"and think of me."
And that's only the beginning of the part the chalcedony rose plays in The Secret Circle story. . . .
Five other people will win autographed copies of The Secret Circle, Book One Omnibus.
WHO CAN ENTER
This contest is open to residents of all countries, but you will be responsible for any customs forms or duty taxes which may be levied by your government (this does not apply to entrants in the USA, obviously).
NOTE: IF YOU DO NOT RESPOND TO YOUR CONGRATULATIONS! EMAIL WITHIN ONE WEEK, A NEW WINNER WILL BE DRAWN IN YOUR PLACE.

HOW TO ENTER:
OPTION #1 – Using this site's eMail form.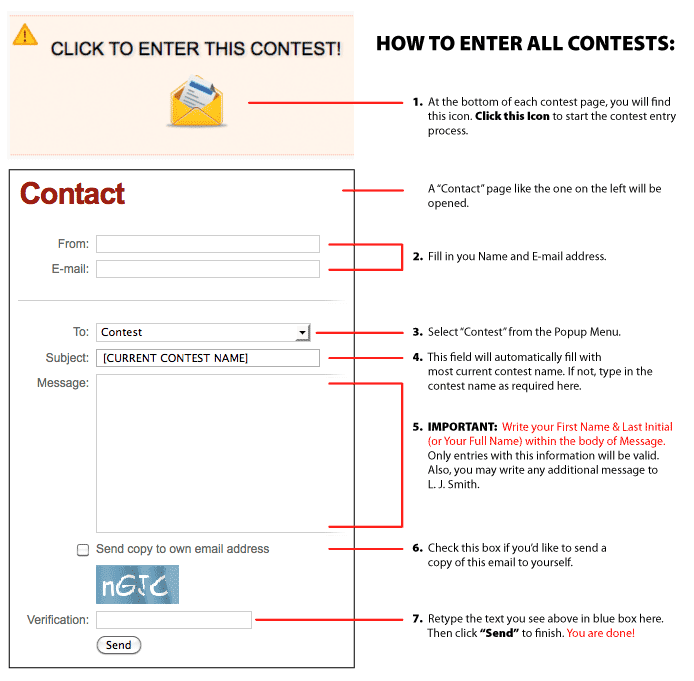 1. Press the

icon below (at the bottom of this page) then fill in the necessary form fields.
2. Select "Contest" under the "To" field (Current Contest Title will automatically fill in for you.)
3. WRITE YOUR FIRST NAME AND LAST INITIAL (OR YOUR FULL NAME) WITHIN THE BODY OF THE eMAIL. ONLY ENTRIES WITH THIS INFORMATION WILL BE VALID. Also, you may write any additional message to me, L. J. Smith. Then click "Send."

OPTION #2 – Using your own eMail program.
1. Send eMail to: This email address is being protected from spambots. You need JavaScript enabled to view it.
2. Subject Field, type: SECRET CIRCLE CONTEST (NOT JUST "CONTEST" OR ANY OTHER VARIATION)
3. WRITE YOUR FIRST NAME AND LAST INITIAL (OR YOUR FULL NAME) WITHIN THE BODY OF THE eMAIL. ONLY ENTRIES WITH THIS INFORMATION WILL BE VALID. Also, you may write any additional message to me, L. J. Smith. Then send the email.
NOTE: Attention! Please, please follow the rule about putting SECRET CIRCLE CONTEST in the subject field exactly. If you write Contest or Contest for Secret Circle or anything other than SECRET CIRCLE CONTEST, I won't be able to find your email when it comes time to alphabetically sort my emails and give them to the attorney to have the winners drawn. If you are copying news of the contest for some other site, please include this rule in the copy.
CONTEST DURATION:
The SECRET CIRCLE CONTEST will run from June 22 until July 30. After the random winners have been drawn they will be contacted by eMAIL.
NOTE: If you do not respond within one week, a new winner will be drawn.
Don't bother to enter if you don't have a non-P.O. box address that you can give, or if you never check your email, because if I can't get an address from you I can't send you your prize. Incidentally, I have no interest at all in sending you anything other than your prize, as everyone who has ever won a prize from my contest will affirm.
THE REST:
Also one winner per street address and one entry per email address—and I mean this. I can see on my Outlook program how many times you have entered and extra entries will be deleted. And don't go to the trouble of making a bunch of extra email accounts, either, because it's likely that you'll forget them or the password by July 30, 2011 and then you'll lose your prize.
Good luck in winning an autographed book or the $2325 TIFFANY'S BLUE CHALCEDONY PENDANT, RING, AND EARRINGS!