Midnight Jewel Box Contest
UPDATED 8/1/2011:
Violetta Revealed!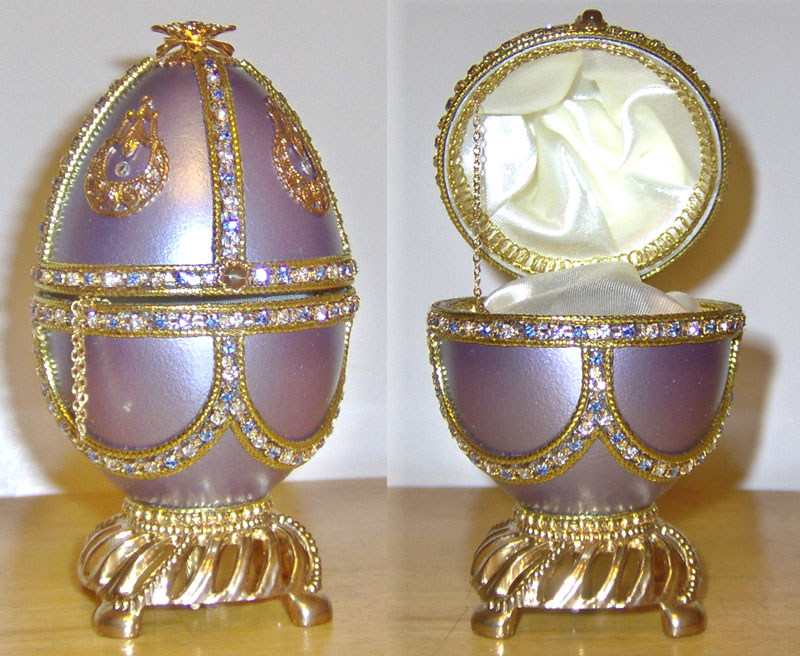 I've always wondered what Violetta jewel box looked like. During the contest I was never able to acquire the photo of this myterious jewel box. Well, I received an email containing the photo of the Violetta today! I'd like to thank the fan member 'C.C.' for sharing her prize.
~ Admin
UPDATED 7/23/2011:
All Midnight Jewel Boxes have been Shipped!!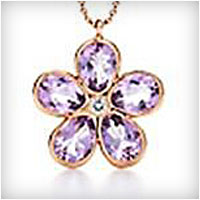 "All the Midnight Jewel Boxes, domestic and foreign, have been sent to the prizewinners. And the Grand Prizewinner has also been shipped her Tiffany's Amethyst Flower Necklace, with a diamond center. Each Midnight Jewel Box is in a form fitting box that was put into a HUGE box full of padding to protect it. " -- Lisa
UPDATED 7/14/2011:
To all the Winners:

"Due to unforeseen events, the shipping of your prizes will be delayed about 1-2 weeks. Lisa wanted me to tell you that she will do her best to get these beautiful Jewel Boxes to everyone. Thank you for understanding." -- Admin
THIS CONTEST IS NOW CLOSED.

UPDATE: JUNE 16, 2011. Just talked with Lisa over the phone. She says that nine winners have entered their choices but the tenth winner did not. She is sending out another email and a deadline to the last winner to respond. You know what they say, "you snooze you lose." I hope you respond soon, you, you "Tenth Winner!" — Admin.
UPDATE: JUNE 15, 2011. This contest is now closed and the TEN WINNERS WERE SELECTED (SEE BELOW) and notified this afternoon via eMail. • Lisa is waiting to hear from all ten winners and their choice of jewel box. At some point when she has everyone's selctions she will likely post on her Blog. •

NOTE FROM ADMINISTRATOR: I should have forseen the chaos that ensued this afternoon when eveyone wanted to see the winners list. The overwhelming response just about blew the server from the rack. Thank you for participitating this contest and congratulations to these ten winners.
Kiki L. of Miami Florida
Samantha M. of Laurel, MD
Kareemah B. of Mississauga, Canada
Amy S. of Glasgow, Scotland
Kari P. of Kalispell, Montana
Avni A. of Atlanta, GA
Mary O'Keeffe of Dublin, Ireland
Angelica Molina of Chicago, Illinois
Tatiana Lammers of Pacific Grove, California
Christina H. of Laramie, Wyoming
Contest Prizes: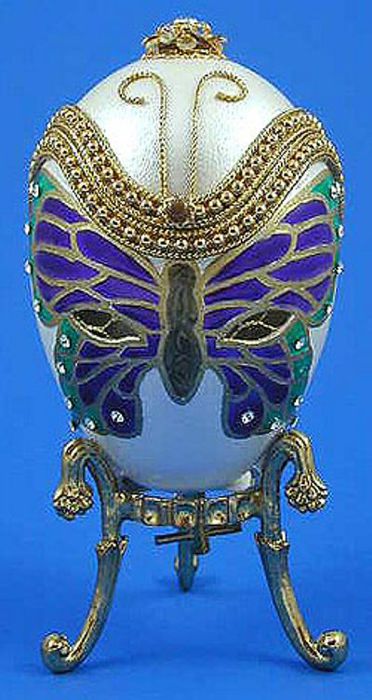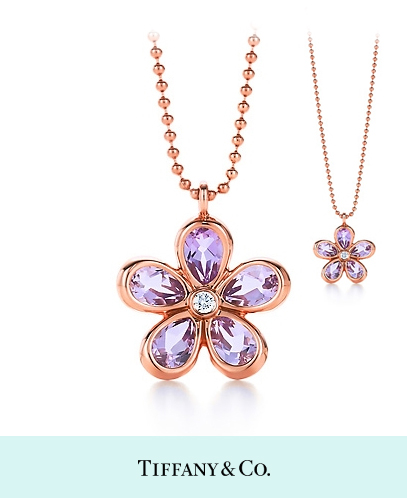 UPDATED: JUNE 13, 2011

: Picture of "Violetta" Jewel Box is not available. But I've added a place holder image for Violetta so that we have a total prize count of 10 Jewel Boxes. Further instruction will be given once the winners are announced. — Admin.
This contest is different from any I've held before.
Ten people are going to be lucky winners—and they themselves will determine who is the
Grand Prize Winner,
simply by being the first to respond to the list of their names and cities and states (or cities and countries)
in my blog on June 15, 2011(12 Noon, Pacific Time).
The other winners still will have control of their prizes, as they can pick which jewel box they want (while supplies last). And what are the prizes? They are gorgeous, hinged, satin-lined duck or goose eggs decorated to be stunningly beautiful, as you can see by the pictures. They range from sleek black cases that say "owned by a vampire princess" to cameos that say "owned by an evil vampiress" :) to dainty dragonflies and butterflies to glorious royal carriages in blood red or wedding white (you can see a brown-haired Elena and a Salvatore Brother dancing in the latter).
The Grand Prize Winner will also win a $1,000 Tiffany Garden flower pendant
—because what is a jewel box without a jewel to put in it? This
Tiffany Garden flower pendant
that "takes its inspiration from nature's most beautiful blooms," is 18K rose gold with pear-shaped lavender amethysts and a round brilliant diamond in the center. It is graceful, feminine, and comes on a 16-inch rose gold beaded chain.
WHO CAN ENTER
This contest is open to all countries, but you will be responsible for any customs forms or duty taxes which may be levied by your government (this does not apply to entrants in the USA, obviously). Also, you must give your first name and last initial (or your full name if you don't mind seeing it on the Internet), AND your city and state (or country) of residence. This information has nothing to do with picking the winners, but everything to do with identifying you if you do win. Any entry without this info will be invalid.

NOTE: IF YOU DO NOT RESPOND WITHIN ONE WEEK, A NEW WINNER WILL BE DRAWN.


HOW TO ENTER:
OPTION #1 – Using this site's eMail form.

1. Press the

icon below (at the bottom of this page) then fill in the necessary form fields.
2. Select "Contest" under the "To" field (Current Contest Title will automatically fill in for you.)
3. Write your First Name and Last Initial (or Your Full Name) and Your City and State (or City and Country) Within the body of the eMail. Only entries with this information will be VALID. Also you may write any additional message to me, L. J. Smith. Then click "Send."

OPTION #2 – Using your own eMail program.

1. Send eMail to: This email address is being protected from spambots. You need JavaScript enabled to view it.
2. Subject Field, type: Midnight Jewel Box Contest
3. Write your First Name and Last Initial (or Your Full Name) and Your City and State (or City and Country) Within the body of the eMail.Only entries with this information will be VALID. Also you may write any additional message to me, L. J. Smith. Then send the email.
NOTE: Attention! Please, please follow the rule about putting Midnight Jewel Box Contest in the subject field exactly. If you write Contest or Jewel Box Contest or Contest for Midnight Jewels or anything other than Midnight Jewel Box Contest I won't be able to find your email when it comes time to alphabetically sort my emails and give them to the attorney to have the winners drawn. If you are copying news of the contest for some other site, please include this rule in the copy.
CONTEST DURATION:
The Midnight Jewel Box Contest will run from May 1 until June 14. After the random winners have been drawn, their names, cities and states (or cities and countries) as given in the body of their eMail will be posted in my Blog on June 15, 2011 (12 Noon, Pacific Time). The first to reply by email will be the Grand Prize Winner and get the $1000 Tiffany pendant as well as first choice of the Midnight Jewel Box. The next to respond will get the next choice of Midnight Jewel Box, and so on, until all ten winners have responded.

NOTE: If you do not respond within one week, a new winner will be drawn.
Don't bother to enter if you don't have a non-P.O. box address that you can give, or if you never check your email, because if I can't get an address from you I can't send you your prize. Incidentally, I have no interest at all in sending you anything other than your prize, as everyone who has ever won a prize from my contest will affirm.
THE REST:

Also one winner per street address and one entry per email address—and I mean this. I can see on my Outlook program how many times you have entered and extra entries will be deleted. And don't go to the trouble of making a bunch of extra email accounts, either, because it's likely that you'll forget them or the password by June 14, 2011 and then you'll lose your prize.
Good luck in winning Midnight Jewel Box with a $1000 Tiffany Necklace inside!