Black Rose Contest
UPDATE 2/28/11:
Grand Prize Winner Says:
"THANK YOU SO MUCH! I'M SO EXCITED, I CAN'T STAND IT! I KEPT MY FINGERS CROSSED! IT WORKED!"

-- Sandra C. from Gilbert, AZ (yes, Gilbert as in Elena Gilbert!)
THIS CONTEST IS NOW CLOSED.
This contest is now closed and the entries are being gathered to be randomly selected by a third party. • When they are selected, they will be informed by e-mail, and the Grand Prize winner will have her/his first name posted in the Blog. THANK YOU FOR PARTICIPATING. GOOD LUCK TO YOU ALL!

First, let me say that each of the eleven prizes that will be sent will include an autographed label that you can place inside your favorite L. J. Smith book. Since I don't do autographs any other way, not even if you send me a self-addressed-stamped envelope (sorry, too many, and I need all my time for writing new books!) this is your chance to have a bookplate with my autograph to you personally—in any words you choose! So in a sense each of these prizes is invaluable, though I guess eBay would put a price on an autographed book by me.
This contest is the first that should appeal equally to lovers of both The Vampire Diaries and the Night World series. The prizes are startlingly lovely, divinely detailed roses . . . black roses, that is. Each one is made from a real rose dipped in exquisite black enamel, and trimmed with 24-karat gold so that each petal is perfectly delineated. The stem is gold-plated as well (complete with thorns!) , and the two leaves are the proper dark green of a rose, trimmed with gold, and surprisingly lifelike. The pictures I have don't really do these black beauties justice. The roses are satisfactorily heavy in the hand and look wonderful placed on a dresser or in a china cabinet. Just don't drop them on a hard floor! I will be giving away ten of these black roses, each in its own beribboned gold gift box.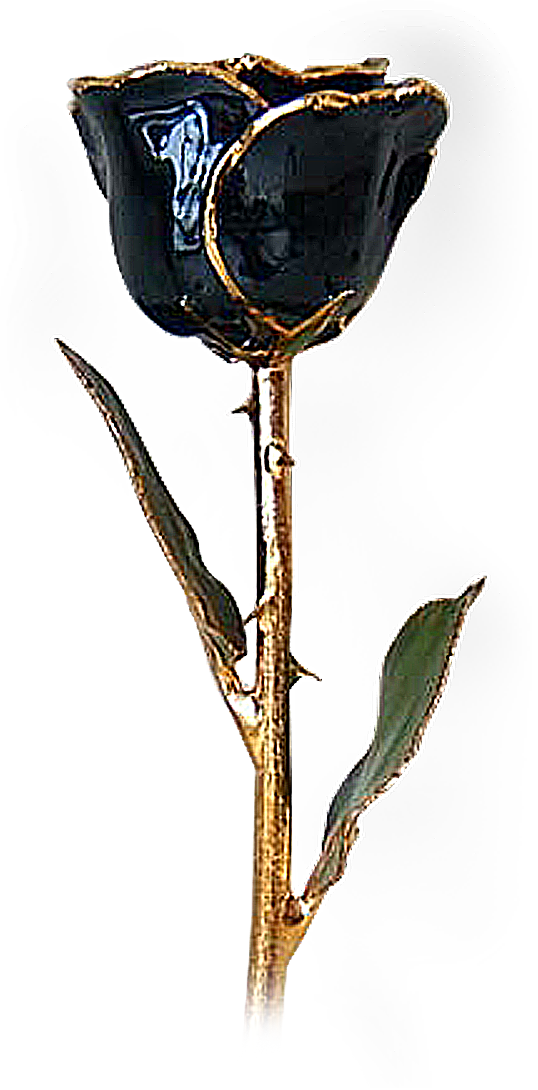 The Grand Prize is a black rose plus a 24-karat entirely gold plated "perfect rose," which will come with a handwritten note from me on one of my personal gift cards. The "perfect rose" is just what it sounds like . . . a sort of fairy tale golden rose which looks as if it were fresh from the fingers of King Midas. The makers take extra steps in making the rose, and dip each petal separately, thus coming up with the most perfect golden rose you will find anywhere—and believe me, I've sampled all the shops. The Grand Prize Winner will also receive a special autographed book if they like, rather than a bookplate.
So now you can flaunt your own evidence of being a Night World vampire who belongs to the Black Rose Club . . . or, if The Vampire Diaries is more your style, you can own what Damon found in the middle of the bouquet in Shadow Souls, and which will continue to figure in The Vampire Diaries saga through Midnight and possibly into Phantom. All it takes is one email addressed to This email address is being protected from spambots. You need JavaScript enabled to view it., with Black Rose Contest in the subject field. You can leave the body of the email blank, or, if you feel it's luckier, you can write about which affiliation you have or simply why you want a black rose.
Attention! Please, please follow the rule about putting Black Rose Contest in the subject field exactly (and no, it won't be in bold, I'm just using bold to show you the words to write). If you write Rose Contest or Contest or Contest for Black Rose or anything other than Black Rose Contest I won't be able to find your email when it comes time to alphabetically sort my emails and give them to the attorney to have eleven randomly drawn: ten prize winners and one Grand Prize winner.
Due to the fragile nature of the prizes in this contest, it is only open to residents of the USA. Good luck!
TO ENTER:
1. Press the

icon below then fill in the necessary form fields.
2. Select "Contest" under the "To" field (Current Contest Title will automatically fill in for you.)
3. Write any additional message to L. J. then click "Send."
This contest will run from January 9 until February 28.· After winners have been drawn, they will be notified.· Don't bother to enter if you don't have a non-P.O. box address that you can give, or if you never check your email, because if I can't get an address I can't send you your prize.· I have no interest at all in sending you anything other than your prize, as everyone who has ever won a prize from my contest will affirm.· One entry per email address and one prize per street address.
Good luck!