Cassie's Unicorn Egg Contest
UPDATE 1/25/11:
Second Grand Prize Winner Says:
"Wow I am just SSSSSOOOOOOOOO excited to have won this contest I was sitting and reading my E-Mails and screamed so loud my parents had to come check on me! haha"

-- Janae K. from Goshen, Indiana.
UPDATE 1/10/11:
Grand Prize Winner Says:
"I am IN LOVE with your books as well as unicorns, so this is SO COOL! I actually have two little unicorns on my bookshelf right in front of me (along with my unicorn Pillow Pet named Mr. Amadeus :P), and now I can add the one I am getting from you!!!"

-- Hailey A. of Sioux Falls, South Dakota.
UPDATE 1/10/11 - 1/17/11:
Quotes from Autographed Book Winner:

I love all of your books and can't wait [for] you to write more thank you for creating these contests I love all of your books and characters!! -- Janae K. of Goshen Indianna
"I can't believe this! I literally screamed when I saw that I won. My brother actually had to come to my room to tell me to shut up. When I told him I won a contest, he thought I was kidding. I showed him the email and even he was shocked.This has never happened to me before." -- Kaitlin L. of Los Angeles, California.
"I am sooo excited that I won this book, it's one of my favorites." -- Kathleen D. of Newark, Delaware
"Awesome, I won! Thanks so much. I really didn't expect this, since I normally NEVER win these type of things. And now I get a autographed books from one of my favorite authors! :) -- Danielle M. of Vancouver, Washington
"I'm so happy to have won, I love all your books so much, I can't wait to read this one!" -- Jackie W. of Charlotte, North Carolina
"I love all of your books and can't wait [for] you to write more thank you for creating these contests I love all of your books and characters!!" -- Janae K. of Goshen Indianna
Those are all the comments I have received so far. I hope the other Grand Prize Winner checks in soon.
THIS CONTEST IS NOW CLOSED.
This contest is now closed and the entries are being gathered to be randomly selected by a third party.· When they are selected, they will be informed by e-mail, and the Grand Prize winner will have her/his first name posted in the Blog. The winners of both autographed Secret Circle books and the two Grand Prize Winners, who won the two exquisite Unicorn Eggs have been notified, and will, I hope, send me their addresses. I also hope the Grand Prize Winners find the sparkling Unicorns and the beautiful gold and white "shells" of their eggs as delightful as I do.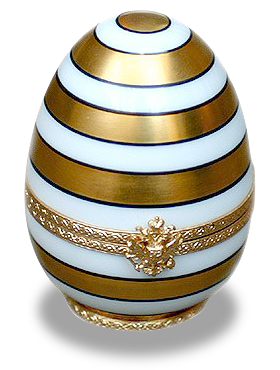 This contest is for something so beautiful—so exquisite—that there will be two identical Grand Prizes, as well as ten autographed Secret Circle (Omnibus 1) books. If you have read The Secret Circle or the first half of the new novella Cassie & Nick: Deep Waters, then you know that Cassie, the protagonist, not only has an extensive unicorn collection, but in Secret Circle comes to be identified with the shy but loving unicorns themselves. That's what gave me the idea for this contest, in which two identical modern Fabergé-style eggs will be given away.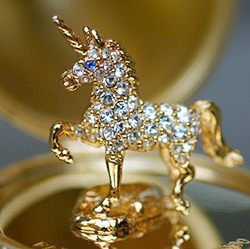 Each egg is a little bigger than a hen's egg, and much heavier. As you can see from the pictures, the Unicorn Surprise Egg is lovely when closed, and absolutely exquisite when opened. The tiny, perfect unicorn's body glitters with inset white crystals in the light, and there is even a sparkling deep blue eye.
The eggs come inside two boxes, outer and inner, both blue. The inner box, which is made of enamel, is luxuriously padded in a silky material to gently cradle the egg.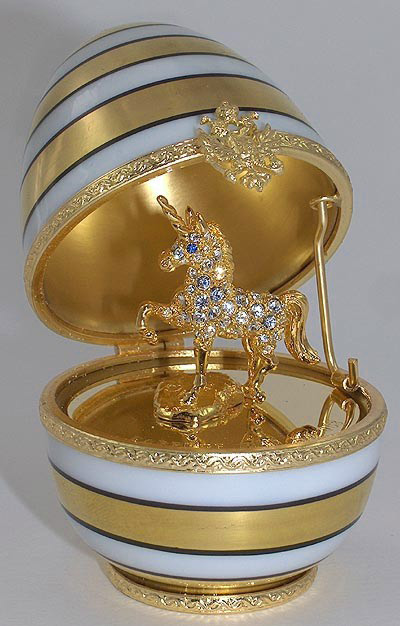 Please note: these are not the original Fabergé eggs Tsar Alexander III had manufactured for his family—you can read about them in Wikipedia. But they are not only exquisite: they are absolutely impossible to find these days. I bought these two from a company that sells Russian art, and I noticed that, although their store now lists other eggs, the unicorn eggs are gone. Since that was my lone source, I doubt I'll ever be able to offer these eggs as prizes again. Me, I'm hanging on to one I bought over a decade ago.
As usual in these contests, please send an email to This email address is being protected from spambots. You need JavaScript enabled to view it. and put CASSIE'S UNICORN EGG in the subject field. (If you send it from the website, the icon below this description automatically puts the heading in for you.) Also as usual, please send only one entry per email address, and there will be only one prize to a household. If you like, inside the email you can write something about whether you believe Cassie should stay with Adam, or whether you think Nick has a ghost of a chance. :) Or if you would like to see a sequel to Secret Circle or have something to say about the TV option, feel free.
The two Grand Prizes will be available to everyone, regardless of their country. I'm afraid that the autographed books are only available to people in the USA, due to difficulties with Customs.
TO ENTER:
1. Press the

icon below then fill in the necessary form fields.
2. Select "Contest" under the "To" field (Current Contest Title will automatically fill in for you.)
3. Write any additional message to L. J. then click "Send."
This contest will BEGIN NOVEMBER 10, 2010, and END ON JANUARY 7, 2011, after which the winners will be announced.
Also—I shouldn't have to say this, but—only one entry from any email address, and only one prize to a home address.
Good luck!