Bonnie's Opal Ring Contest
UPDATE 12/10/10:
Grand Prize Winner in the Bonnie's Opal Ring contest is:
Alex M. from Sioux Falls, SD, says:

"THANK YOU THANK YOU THANK YOU THANK YOU THANK YOU (Times ten-thousand!)"
NOTE: Arrien of Ormond Beach, FL never replied to claim the Grand Prize. See LJ's Blog for details >>
UPDATE 11/19/2010:
Arrien of Ormond Beach, FL – You are the Winner of Bonnie's Opal Ring!
Arrien, please contact me at This email address is being protected from spambots. You need JavaScript enabled to view it.. Put in the subject field Winner! so that I can be sure of finding it among the other emails I get.
UPDATE 11/17/2010:
Well, I emailed the winners of the contest last night and am starting to get in some responses. Alex M. of South Dakota, who won an autographed copy of Shadow Souls says:
"Hoooooooly taco. REALLY?!?!?!?!?!?!
"
That really made me smile. -- Lisa
UPDATE 11/16/2010:




The winners in the Bonnie's Opal Ring contest have been chosen.

They are being notified at this time. Thanks, everyone for an absolutely unbelievable turnout. More info here later.
THIS CONTEST IS NOW CLOSED.
This contest is now closed and the entries are being gathered to be randomly selected by a third party. When they are selected, they will be informed by e-mail, and the Grand Prize winner will have her/his first name posted in the Blog. The winners of the ten Shadow Souls books and the Grand Prize Winner of Bonnie's Opal Ring will have three weeks to contact us after being informed by email that they have won.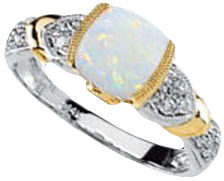 If you've read Vampire Diaries: Volume 6: Shadow Souls, then you know that Bonnie is sent home with an opal ring set with diamonds, as well as many other pieces of opal jewelry, and I can tell you in advance that this opal ring gains great significance in Vampire Diaries: Volume 7: Midnight.
So I can't think of a better prize right now than "Bonnie's Opal Ring"--which has been slightly sized down from its book description (which would hardly be suitable, except as a cocktail ring!).
Now you can win this version of Bonnie's opal ring! It's made of 14 karat gold and 14 karat white gold, with one central opal and diamonds sprinkled around it. This is a gorgeous ring that sells for over $700—so pretty that I got one for myself! And if you didn't win an autographed Shadow Souls book during the last contest, here's your chance, because I'm offering ten this time round as second prizes.

Unfortunately, I'm afraid I'm going to have to confine the autographed book part of this contest to readers in the United States, just because I have had so much difficulty mailing prizes to other countries. HOWEVER THE OPAL RING IS A PRIZE OPEN TO EVERYONE— IN ALL COUNTRIES.
TO ENTER:
1. Press the

icon below.
2. Fill in the "From and E-mail" field as required.
3. Select "Contest" under the "To" field (Current Contest Title will automatically fill in for you.)
4. Write any additional message to L. J. then click "Send."
Inside, if you like, you can let me know who you think Bonnie should end up with in the Vampire Diaries. Will it be Matt? Damon? Some boy yet to be introduced? I'd love to hear your opinion.
This contest will begin September 15, 2010, and END ON NOVEMBER 10, 2010, after which the winners will be announced.
Also—I shouldn't have to say this, but—only one entry from any email address, and only one prize to a home address.
Good luck!